Quote; "Disabled person's suicide shows up the Tories' cruelty over benefit cuts"
"A 67 year old disabled man set himself on fire outside a job centre after his benefits were cut, an inquest heard last week.
Peter Sherwood told a mental health team about his intention to kill himself just hours before doing it.
After Disability Living Allowance was cut, Peter was told to apply for
Personal Independence Payment
(Pip) in 2015 (see below).
Unfortunately, Peter's case is far from unique.
According to the government's own figures, thousands of disabled people died within six weeks of being found fit to work under the
Work Capability Assessment
(WCA).
Jayne, a disabled Pip claimant, told Socialist Worker, "When my condition worsened I was assessed by a paramedic at my Pip reassessment.
"I was depressed and suicidal. The paramedic thought it was a good idea to compare what I was feeling to finding dead bodies—it was very graphic.
"It wasn't about asking 'why do you feel like this', but was aimed at 'let's see if we can scare her away'."
These WCA interviews are carried out by private subcontractors such as Atos, Capita and Maximus. There are reports of interviewers asking benefit claimants with mental health issues,
"Why haven't you killed yourself yet?"*
" Go to:
https://socialistworker.co.uk/art/44563/Disabled+persons+suicide+shows+up+the+Tories+cruelty+over+benefit+cuts
For full article.
*Italics mine.
Many who read this may well think; "Don't be ridiculous that's not true!"
"What is on Earth is wrong with this country?"
"No more Vietnams!"?
How things have changed, when I was growing up this would have been unthinkable
but if it had happened those responsible would have been fired and jailed (if they managed to avoid the angry mob during the process)
!
Quote;
"The parallels between Albert Camus's 'The Plague' and London's growing problem with knife crime"
"
The Plague
, but "as I listened to the celebrations," says Dr Rieux. "I thought, 'Joy is always under threat'. I thought about what the crowds were choosing to ignore – and it's something anyone can look up, if they want to – which is that
the plague bacillus never actually dies. It never disappears – not entirely. It can lie dormant for generations in somebody's furnishings or bed sheets; can bide its time in living rooms, in basements, in suitcases... In bank statements.. Until one day – for the misfortune of mankind, or for its instruction perhaps, it once more rouses its rats and sends them forth to die in some unsuspecting city*.
"
Which is when I heard the racket outside. The weird thing is that I hardly took any notice of the real violence. I didn't take it seriously. I was walking along Ashwin Street towards Dalston Junction when I heard raised voices, shouting, an indeterminate ruckus somewhere behind me. I was in a small group of four and we exchanged looks but thought it was just the normal post-theatre hubbub. The usual singing and dancing. Nothing out of the ordinary. So we carried on towards the Overground, rather like the people in the play who choose to turn a blind eye to the plague. It turned out that, in fact, a young man, aged 17, was right then being stabbed by a number of assailants in, according to reports, "a gang-related incident". An eye-witness shopkeeper in Dalston Lane said, "About ten of them ran up the street. I heard a glass bottle smashing and then there was shouting, screaming. They were just kids, it's madness."
There was blood on the streets of London. Emergency vehicles swooped and the area was cordoned off and detectives combed Dalston looking for evidence. In the play Dr Rieux is the main narrator and saviour figure (of sorts). In reality, the victim was taken to a London hospital where he was initially described as "critical" but after treatment had become "stable"." Go to:
http://www.independent.co.uk/news/long_reads/albert-camus-the-plague-london-violent-knife-crime-police-a7717851.html
For full article.
*Italics mine.
"The Plague affects the whole society. Any of us may become victims. All of us are susceptible. The writer of the article sounds like a typical liberal. He enjoys the frisson of violence but retreats from the reality. Rather than confront the nihilism of his society as a whole he would rather find scapegoats and protect his virtue by allowing others to use violence on his behalf whilst averting his eyes. He misses the point."
johnlilburne
"
"would rather find scapegoats and protect his virtue by allowing others to use violence on his behalf whilst averting his eyes." They're all nasty passive aggressives to their friends, colleagues and families..." Gerard - comments "The Lifeboat News" Go to: http://members5.boardhost.com/xxxxx/index.html
What on Earth is wrong with this country?
Quote; "The sorry facts which show the BBC has moved beyond bias, into pure propaganda"
"The
BBC Trust
is responsible for granting licenses to all BBC outlets and stations, managing value for money on licence fee payments and
'the direction of BBC editorial and creative output'
. The Trust consists of 12 Trustees and is headed by
Rona Fairhead
– who also happens to have been a longtime board member of HSBC bank.
As
The Canary's
James Wright
reported
earlier this year:
Fairhead has entrenched ties to the Tory government. In fact, she and Osborne are old friends. Fairhead worked for the Conservative government as a cabinet office member, until being appointed by the previous Conservative culture secretary – Sajid Javid – as the new head of the BBC Trust. She is still business ambassador for David Cameron.
Fairhead has also sat on the board of HSBC directors for a long time. And what is even more shocking than her other Conservative links are claims that she was actually appointed chairwoman of the BBC Trust to keep a lid on Cameron's involvement in covering up a £1bn fraudulent HSBC scam on British shoppers. Whistle-blower Nicholas Wilson made various freedom of information requests that confirmed that Fairhead's appointment did not follow proper procedure. She was rushed to the position after the application date closed, with no mention of her on any contemporary media shortlist.
Her appointment does not coincide with the normal process, and many questioned why a business tycoon was right for the job. What it did coincide with was a string of interconnected visits from the BBC, HSBC, the Houses of Parliament and the Financial Conduct Authority (FCA) to Wilson's website where he details the scam and the FCA and Cameron's involvement in covering it up.
But the conflicts of interest do not stop at Fairhead.
The Director of News and Current Affairs at the BBC, James Harding, is a former employee of the Murdoch Press. While Editor of The Times newspaper, he was responsible for
exposing the identity of police blogger NightJack
by
hacking the blogger's email accounts
– which his
legal team then covered up
during a court case against the action. Harding has also gone on the record as
'pro Israel'
.
This is the calibre of the figures responsible for hiring the news teams, presenters and journalists who will report on matters of hacking, privacy, and the Middle East." Go to:
https://www.thecanary.co/2016/05/06/the-abysmal-local-elections-coverage-shows-the-bbc-has-moved-beyond-bias-to-pure-propaganda/
For full article.
Quote;
"
"Is there collusion between BBC & BAE to not report on UK support to #Saudi bombing in #Yemen & not make it election issue?"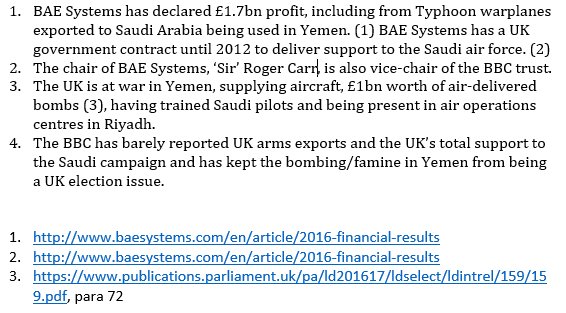 " Tweet from
https://twitter.com/markcurtis30
, also see:
http://markcurtis.info/2007/02/13/the-covert-war-in-yemen-1962-70/
&
http://markcurtis.info/category/yemen/
What on Earth is wrong with this country?
Quote; "Sharp rise in number of acid attacks in London, Met reveals"
"Acid is believed to be a popular weapon for gangs as it is easy to obtain and it can be difficult to identify the attacker.
The data, seen by the BBC, revealed that almost a third of these attacks were carried out in
Newham
and that victims are twice as likely to be male than female.
"Corrosive fluids" have been used in murders, robberies and rapes but more than 70 per cent of cases never reach trial due to difficulty identifying suspects or victims being unwilling to pursue charges." Go to:
http://www.standard.co.uk/news/crime/sharp-rise-in-number-of-acid-attacks-in-london-met-reveals-a3494816.html
For full article.
What on Earth is wrong with this country?
Quote; "Campaigners have hit out at Defra's approval of a four-year GM potato trial, over concerns it could threaten food safety."
"The trial was approved with little fanfare by farming minister George Eustice on 27 April, and will see the potatoes planted in an open field at The Sainsbury Laboratory in Norwich.
Campaign group GM Freeze this week bemoaned the controversial decision, calling it a "regulatory blank cheque". The group has raised concerns that despite field trials usually following a programme of greenhouse experiments, most of the potatoes in the trial have not yet been created or tested in a controlled environment, which could present risks to food safety and GM contamination.
Prior to consent for the trial, a multi-agency objection was signed in March by 33 organisations, including farmers, scientists, retailers, caterers and environmentalists. It argued that the application for a field trial was premature, and would be of no benefit to society.
In Defra's letter of consent, Eustice said the trial would have to stick to various restrictions, including the site not exceeding 1,000 square metres, with no more than 1,500 GMOs to be planted at the site during the period from May 2017 to November 2021.
"We are deeply concerned that Defra has signed a regulatory blank cheque in consenting to the planting of experimental potatoes which have not ever been analysed in a test tube, much less properly studied under controlled greenhouse conditions," said Liz O'Neill, director of GM Freeze" Go to:
https://m.thegrocer.co.uk/home/topics/environment/anti-gm-campaigners-hit-out-at-norwich-potato-trial/552602.article
For full article.
What on Earth is wrong with this country?!
Arafel: https://www.theguardian.com/uk-news/2017/jan/19/crime-figures-show-and-knife-offences-rising-ons-england-wales, http://metro.co.uk/2017/05/08/roll-call-of-death-map-shows-how-widespread-knife-crime-is-across-london-6623074/, http://www.disabilitynewsservice.com/tag/benefit-related-deaths/, https://welfaretales.wordpress.com/category/death-after-fit-to-work-decision/, https://www.spectator.co.uk/2017/03/what-shocks-me-about-the-bbc-occasionally-it-isnt-biased/#, https://www.rt.com/uk/376061-gm-crops-trial-approved/, https://www.usatoday.com/story/news/world/2017/04/27/acid-attacks-rise-united-kingdom/100739780/, https://www.theguardian.com/uk-news/2015/sep/30/acid-attack-hospital-admissions-have-almost-doubled-in-last-10-years
Also see;
""The Roll of the Dead: Deaths at the Hands of the British State" #Austerity #VoxPolitical #SamuelMiller" Go to:
http://www.arafel.co.uk/2016/08/the-roll-of-dead-deaths-at-hands-of.html